The night of Wednesday the 6th I begin preparing my bike to leave in the morning. Around midnight, shortly before going to sleep, I feel the onset of a sickness. I push aside the thought of getting sick with hope my attitude will lead by example and show my body to recovery overnight. It does not, and the next morning I awake feverish with a mild dizzy headache. My initial desire of getting up at 8AM collapses and I remain under the covers for another 2 hours. When I awake, I'm greeted with my grandfather's egg and pancake breakfast. This gives the much needed nutrition to start the day properly.
I've received mixed feelings from my family about leaving, however, this time proved no more difficult for me than before to continue onward. Most were excited and supportive, and while a few showed hesitation, I believe they all understand and support my desire. I love you all dearly and one day we will see each other again, but for now I have to see where this rare adventure takes me.
I don't feel up to dealing with highway, so the first day's drive to Texas lands solely on the Natchez Trace Parkway. This two-lane, commercial vehicle-free, 50mph, scenic road was recommended by a friend. It runs 400+ miles from Nashville, Tennessee to Natchez, Mississippi. I mark my map with the location of the three free primitive campsites along the parkway and hurry to get on the road to lighten my delusion of lost time.
My sickness is oppressive but manageable, so I push on as far as I can go. For 9 hours and 445 miles I cut through rock mountains, over beautiful rolling hills, through forests and grassy plains. My GPS now reads 10 minutes from official sunset and hardly any light remains. I arrive at Rocky Springs, the furthest camp on the parkway, and find a spot to park in darkness. I adorn my headlamp to raise my tent in the now moonless night. Everything is unpacked and set up in a few minutes. There's nothing I feel like doing except putting my head down, and I proceed to have a very restful, dream-filled sleep until the sun wakes me by painting my walls and ceiling bright yellow with the morning light.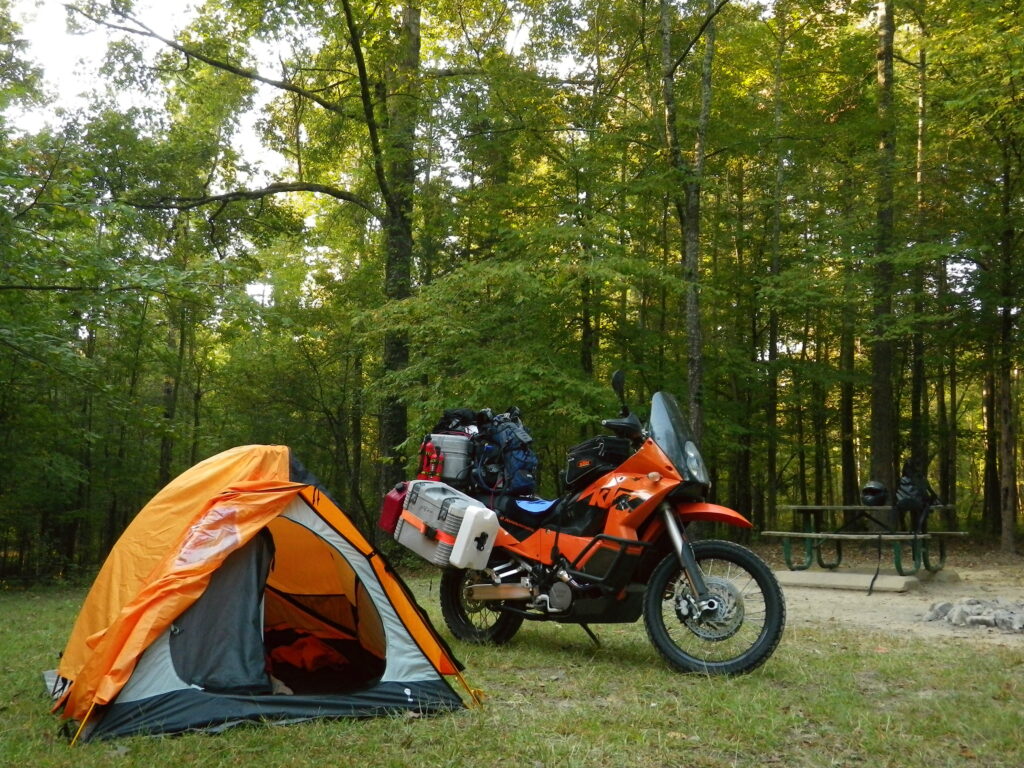 I don't feel very hungry because of my sickness but I know I need energy and nutrients to heal. I put my tent in the sun to dry the dew while I devour a can of kippered herring that should give me a pick-me-up for the next few hours. My tent is easy to pack since I didn't find it necessary to use stakes or tie down the rain fly last night.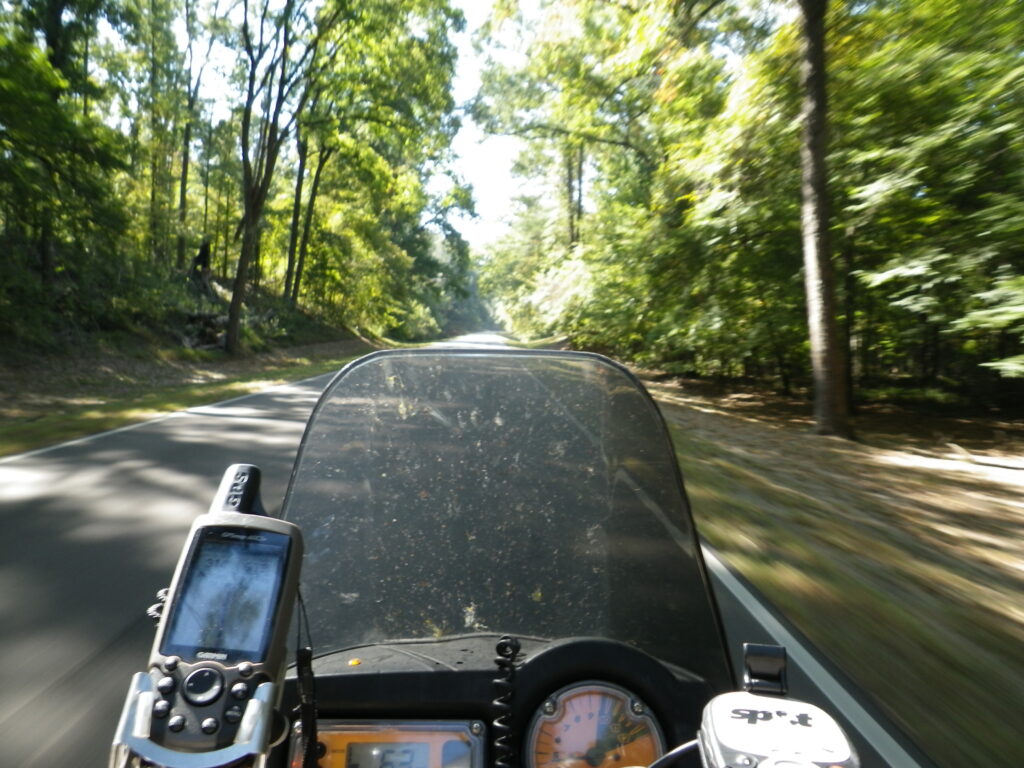 After 382 miles, 7 hours, and a nasty headache (very uncommon) that lasts for an hour on Louisiana's hot I-165, I arrive at Tejas Motorsports in Highlands, Texas, where my bike should see the last of its oil pressure problem. It may be a few days before any diagnosis can be made. My friend Whitney arrives to take me 20 miles away to Houston. By this time, my sickness has almost completely subsided. We stop at Juan Mon's International Sandwiches for a bite and a beer before heading over to a bar, Lola's, for some 8-ball and whiskey. I have to say this bar is a dive. It's odd, humorous, and just plain grungy when you get up close to some of the numerous decorations that adorn the walls and ceiling. Although, I do see on a wall devoted to stickers collected in travel, under one that says something about Alaska, is one that reads "Ushuaia", and I get a warm feeling.
After a few spins of the jukebox, Whitney has kicked my ass 2 out of 3 games of pool. We head out and pull up to Whitney's house as my good friend John arrives. This is who I've known since high school and whose house I'll be staying at for the next week in Lake Jackson. I'm introduced to Whitney's roommates. As artists, their works are displayed throughout the house and outside. It's a very peaceful, inspiring environment. One in which creative juices flow many different ways.
With the museum district only a mile away, the next day John and I set out to experience some art collections and maybe culture ourselves. The Menil Collection is the first we visit. It's a large collection of diverse pieces from around the world. I particularly enjoy the Pacific Northwest (from northern California to Alaska) and the Pacific Islands exhibitions.
The next stop is The Contemporary Arts Museum of Houston, which has two exhibitions. Upstairs, Dance with Camera, a collection of dance installations involving video and still photography. Downstairs, communication, centering on Guglielmo Marconi, an Italian inventor and receiver of the 1924 Nobel Prize in Physics for his work on wireless telegraphy. With such a large amount of information regarding telecommunications, the four small exhibits leave the room feeling open and barren. I see perhaps this may have intentionally been done to focus attention to the torrential information exchange I speak of, wirelessly, throughout all the open space of the room.
We walk across the street and enter The Houston Museum of Fine Arts. Our stomachs are grumbling, so this will be the last museum to be visited. It's the only one that has an entry fee, although with our student discounts and my AAA discount, it's a mere $5 for us both. This collection spans two large, multistory buildings, connected by underground tunnels that meet under the street. The size of the collection here is mind-blowingly large. We try to see everything, but to do that we keep our stay brief in each room. I find myself attracted to the Greek pottery. This is also the only museum that photography is allowed.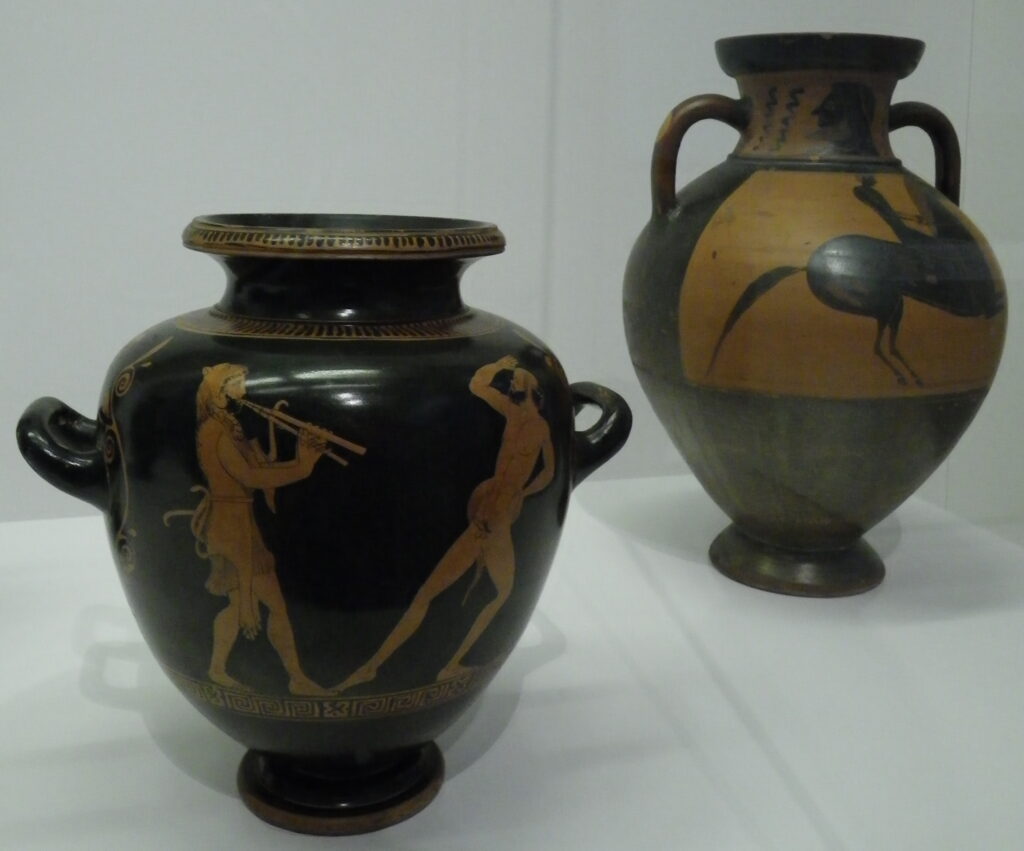 John and I stop to see Whitney and get some dinner, then drive down to Lake Jackson. We haul my stuff into the house and he sets me up in his band room with a mattress and sheets. I take a much needed shower then hit the sack. The next day starts leisurely. At the crack of noon I emerge from my room. Mosquitoes end our game of disk golf before it even begins, so we head out to the beach where there's beer and fishing, and also where a boxing kick match is rumored to be brewing.
A ring is drawn and the rules are stated. No hits below the belt (waist to head) and the first to touch the ground with anything other than a hand has lost. Best 5 out of 9 victories wins a game, best 2 out of 3 games wins the match. John starts off strong but I begin to make a comeback. John, stopping at nothing to defeat me, even injuring his ankle, takes the last game and wins the match.
We finish the night with a stop at the Jetty Shack for some fried shrimp and fix`ns, then head homeward to light some things on fire.